Spotlight
Welcome President Holloway!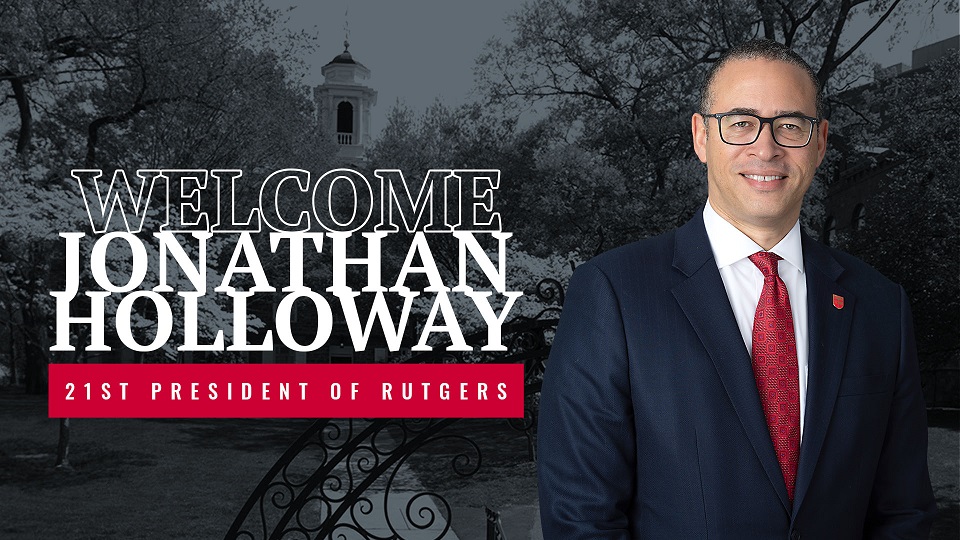 Today, Jonathan S. Holloway begins his tenure as the 21st president of Rutgers, The State University of New Jersey. President Holloway joins us from Northwestern University, where he served as provost. Previously, President Holloway, who is an expert in post-emancipation United States history with a focus on social and intellectual history, served as the dean of Yale College and Edmund S. Morgan Professor of African American Studies, History, and American Studies at Yale University. President Holloway is currently serving on the New Jersey Governor's Restart and Recovery Commission, which informs the reopening and recovery efforts for the state following the COVID-19 shutdown. Read more about President Holloway in a Rutgers Magazine article now available online.
What's Happening
On July 29, Rutgers Graduate School of Applied Professional Psychology invites you to join the journey at its Beautiful Mind Summit and engage in a day of thought-provoking panel discussions, informative lectures, and vulnerable conversations designed for those interested in learning more about mental health and wellness. From 9 a.m. to 5 p.m., a variety of topics will be addressed, including strategies and practices to apply in daily life, exploring the science and art of psychology, and connecting with support and resource networks. This all-day, virtual event will be accessible via mobile, desktop, and landline and will feature Q&As with experts, mental health and wellness activities, networking rooms, and a resource hub. Registration is required and is open to the general public, practitioners, community leaders, and students. Learn more and register today!
Serving the Public Interest through Science | The Case of Puerto Rico During the COVID-19 Pandemic
On July 9 at 12 p.m., the School of Arts and Sciences invites you to join the next online installment of the Scarlet Speaker series, Serving the Public Interest through Science: The Case of Puerto Rico During the COVID-19 Pandemic. Host Aníbal J. Valentín-Acevedo is an assistant professor of medical immunology at Universidad Central del Caribe Medical School in Bayamón, Puerto Rico, a former Public Policy Fellow for the American Association of Immunologists, and was recently selected as the 2020 Health Disparities Research Institute Scholar by the National Institutes of Health. Informed by his immunology and public policy experience and expertise—especially concerning the study of signaling pathways in immune cells in response to viral antigens—Valentín-Acevedo will share his insights on how to address the COVID-19 pandemic, during a 30-minute presentation followed by a Q&A. Registration is required, so learn more and sign up for this free online event today.
Get Involved
Recognition for Past and Present HERE4U Honorees and Stories
The Office of Diversity and Inclusion at RBHS continues to recognize colleagues who have had a positive impact on their communities in response to the COVID-19 pandemic. Please continue to submit nominations for members of the RBHS community as well as your empowering stories to be celebrated and shared on HERE4U. View all past honorees and stories, including those honored for championing the #WhiteCoatsForBlackLives campaign to help demonstrate a shared commitment to improving the health and safety of people of color.
Awards & Honors
Congratulations to the 2019-2020 Faculty Award Honorees
On The Move
Linda Flynn Appointed Dean of Rutgers School of Nursing
Linda Flynn, a tenured professor and formerly the senior associate dean of nursing science, has been appointed as dean of the Rutgers School of Nursing. An alumna of the School of Nursing, Flynn has served as the school's interim dean since September 1, 2019. Flynn boasts extensive academic leadership and research experience that includes tenures in senior positions at the University of Colorado and Rutgers as well as producing research initiatives that have impacted federal policy. Congratulations, Dean Flynn!