Spotlight
Nominate Rutgers Community Members Who Promote Diversity, Inclusion & Equity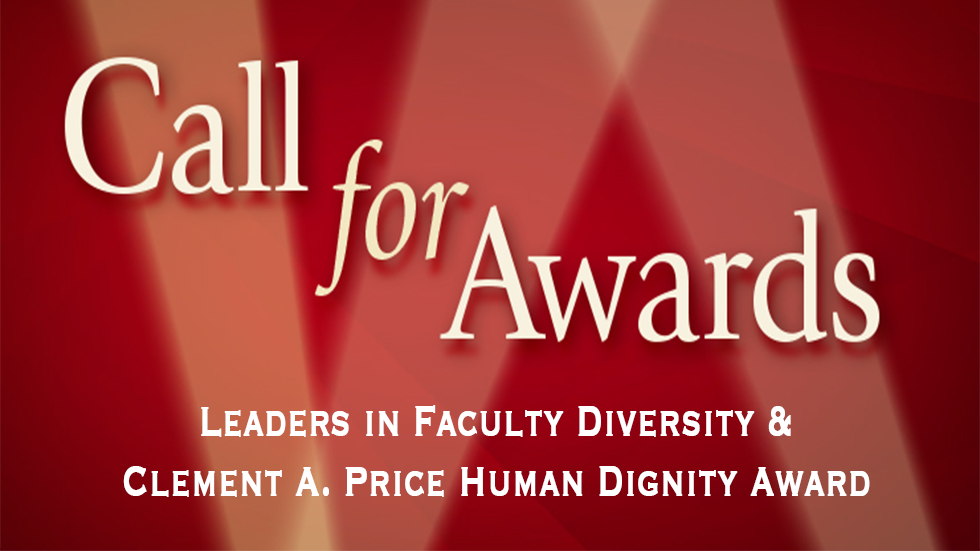 Nominate Rutgers faculty, staff, and students who have demonstrated leadership and activism in their efforts to promote diversity, inclusion, and equity within the Rutgers community and society. To ensure excellence in academic programming and success, the Office of the Senior Vice President for Academic Affairs encourages you to nominate faculty as well as members and groups of the community for the Leaders in Faculty Diversity Awards and the Clement A. Price Human Dignity Award. The Leaders in Faculty Diversity Awards honors a select number of faculty leaders committed to promoting diversity, inclusion, equity, and access at Rutgers through their own academic research, teaching, community engagement research, and other forms of engagement. The Clement A. Price Human Dignity Award recognizes outstanding individuals or groups who have demonstrated extraordinary achievement and commitment to promoting and practicing diversity, inclusion, equity, and access within the university and/or in partnership with community organizations. Learn more and submit a nomination by November 15.
Announcements
Symbiotic Relationship between Humans and Bacteria
Recently, Time.com published a piece by Martin J. Blaser, Henry Rutgers Chair of the Human Microbiome and Professor of Medicine and Pathology, Robert Wood Johnson Medical School, outlining the potentially symbiotic relationship between humans and the microbes naturally found in the body in health. Through the study of our microbial heritage, Blaser details connections between the changes and, to some degree, eradication of the natural bacterial populations found in the body and the rise of modern diseases, such as asthma, obesity, and diabetes.
INN-Spiration Tour & Fall Open House
The Rutgers Inn and Conference Center invites faculty and staff to visit on November 20 for a tour showcasing the on-campus facility as a meeting, retreat, and conference destination. Experience a fresh, inspiring perspective of this Rutgers setting for hosting engaging events. Register to attend this free event.
Rutgers Youth Percussion Ensemble Begins This Month
The Rutgers Youth Percussion Ensemble for high school students begins November 16 and runs through May 2, 2020. Brought to you by Rutgers Community Arts, this program provides students with access to high-quality instruments while encouraging the discovery of a new, musical repertoire. Discounts are available for Rutgers faculty, staff, and alumni! Learn more and register.
Get Involved
Do you ever wish your students were more engaged in your class, formulating deeper questions, and owning more of their own learning? Join Digital Classroom Services on November 12 to learn about the Question Formulation Technique developed by the Right Question Institute, which enables students to develop high-level curiosity, critical thinking, and make creative contributions. Register to attend.
Advanced Degrees for Higher Ed Professionals Information Session
Thinking about furthering your education? The Rutgers Graduate School of Education invites you to an information session on November 12 to learn more about doctoral and master's level programs for individuals currently working in the field of higher education. Learn more and register.
Awards & Honors
Vice Chancellor for Student Affairs Salvador Mena has been recognized by the National Association of Student Personnel Administrators Foundation as a Pillar of the Profession for his service and leadership in student affairs and higher education.
Alexander V. Neimark, Distinguished Professor of Chemical and Biochemical Engineering, has been inducted as a fellow of the International Adsorption Society for his seminal contributions to the theory of adsorption and characterization of porous materials.
Rutgers School of Nursing faculty
Rutgers School of Nursing faculty members Mary L. Johansen, clinical associate professor; Jeffrey Kwong, professor; and Charlotte Thomas-Hawkins, assistant dean and associate professor, were inducted as 2019 Fellows of the American Academy of Nursing.
On The Move
James Oleske, Francois-Xavier Bagnoud Professor of Pediatrics at New Jersey Medical School, director of the division of pediatric allergy, immunology, and infectious diseases, and director of the pediatric palliative care program, is retiring after more than 40 years of service. A prestigious member of Rutgers Biomedical and Health Sciences, Oleske was among the first to recognize that the disease that would come to be known as AIDS could be transmitted at birth.